So this time, no paper was involved... just lots and lots of glue and glitter.
On my visit to Anthropologie in Seattle last weekend, we not only saw
this tree
, but this cute... even adorable jar made into a sort of snow globe. It came in this small jelly jar size, as well as a smaller salt shaker and larger pint jar size too.
It wasn't your typical snow globe since there isn't any liquid inside... just lots of white snow (glitter)... and a rather steep price tag of $24.00 for the little jelly jar. I knew, like
my tree project
, I could make this at home. I ordered some trees on etsy.
All I spent was the $6.00 for the trees (6 large, 8 medium and 10 small). I had all of the other supplies.
First up I glittered my trees with silver glitter (thanks again Martha!). Then, living dangerously, I glued the trees onto my jelly jar lids while the trees were still wet! Yes, I was a bit impatient. The trees at Anthropologie appeared to be glittered with silver, even though the picture above doesn't look that way... so I stuck with what I saw in the store.... and you can never have too much glitter!
Once the glue had dried so that the trees were firmly attached to the lids, I poured white snow/glitter into each jelly jar.... about 1/2 inch deep. Then I flipped the lids over... screwed the ring on firmly...
And voila! My very own, Anthro inspired snow globes!
I like the simplicity...
And of course, the price!
Welcoming my own, snow filled weekend, or so the weather channel tells me...
linking up to
Verde Farm - Fall Farm Friends Friday
French Country Cottage
Feathered Nest Friday
Common Ground
Vintage Inspiration Friday
The Brambleberry Cottage
Time Travel Thursday
At The Picket Fence
Inspiration Friday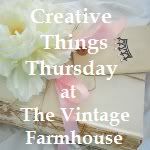 Deborah Jean's Dandelion House
Farmgirl Friday