Summer officially started this week... what does summer mean? Long days, warm days, fresh veggies, the 4th of July, camping, vacation, beach days, picnics, birthdays, weddings and of course... my favorite... treasure hunting. You can treasure hunt at garage sales, on Craig's list, flea markets, antique stores and of course, junk stores.
We started our day off here. I'll have my usual grande non-fat latte please.
Then it was off to a small farming town in our county called Sumas. Located right on the Canadian border. We were looking at barn windows my husband found on Craig's list. He picked up quite a few to replace ones that are in poor shape on our barn. These four pane windows don't come up often... and this barn of ours has a lot of windows!
Then it was time for a greasy burger lunch in Bellingham at Win's Drive-In... need I say more?
After lunch, we were heading down to Skagit County. We decided to take the scenic, Chuckanut Drive, route. A winding, narrow road along the water, the salt water that is.
But it's worth the ride. Much nicer than the interstate would have been... especially on a pretty sunny day. I must say, we do live in a beautiful part of the country!
Our destination? Well this little junk store we'd heard about, Bonnar's Trading Post. It was packed full of things from pennies to thousand of dollars. What a fun place to hunt for anything.
I came home with this.... can you guess what it is?
An old jar lifter for canning.... I think perhaps it is homemade. I seem to have inadvertently started a vintage canning items collection... old jars, another old jar lifter that was my great-grandmothers, an old apple corer... but you can never collect too much, right?
All my treasures were $6.40 including tax. I also got a vintage tinsel tree and an old Avon milk glass perfume bottle that I plan to use as a vase.
It looks right at home with my other milk glass that I love to collect. I'm filling up this cabinet in my kitchen quite rapidly!
Looking forward to many more summer treasure hunts,
linking up
to
White Ironstone Cottage
Treasure Chest Friday
AND
Common Ground
Vintage Inspiration Friday
Summer Block Party
Vintage Summer
AND
Brambleberry Cottage
Time Travel Thursday
AND
Modern Country Kitchen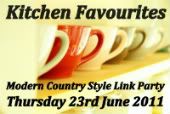 Kitchen Favourites Party